Owner Dashboard
A space just for you!
Our goal at Vista Algarve is to provide our owners with the information they require on demand and constantly striving towards this goal ensures we go that extra mile to provide a value-added service to all of our clients.
Log in to your property dashboard and track all aspects of your rental property, the account summary area will show you real-time information on when your next payment is due and the date of your next booking.
Your owner dashboard has been carefully laid out so that access to any area of interest is made easy, whether it's looking at your bookings, scheduling a task or downloading your financial statements, you'll have instant access.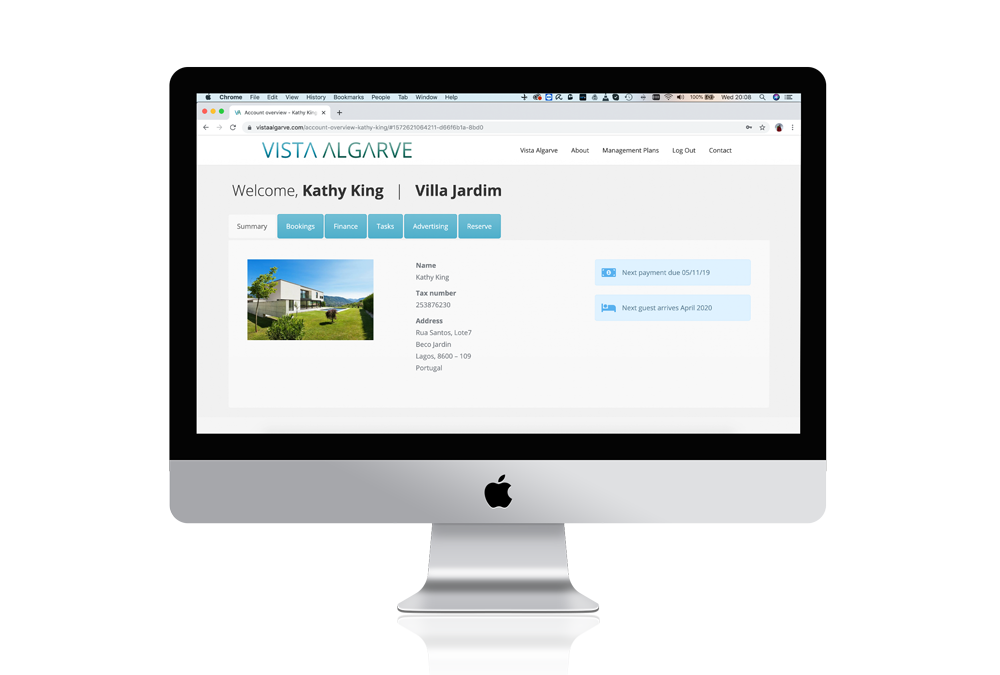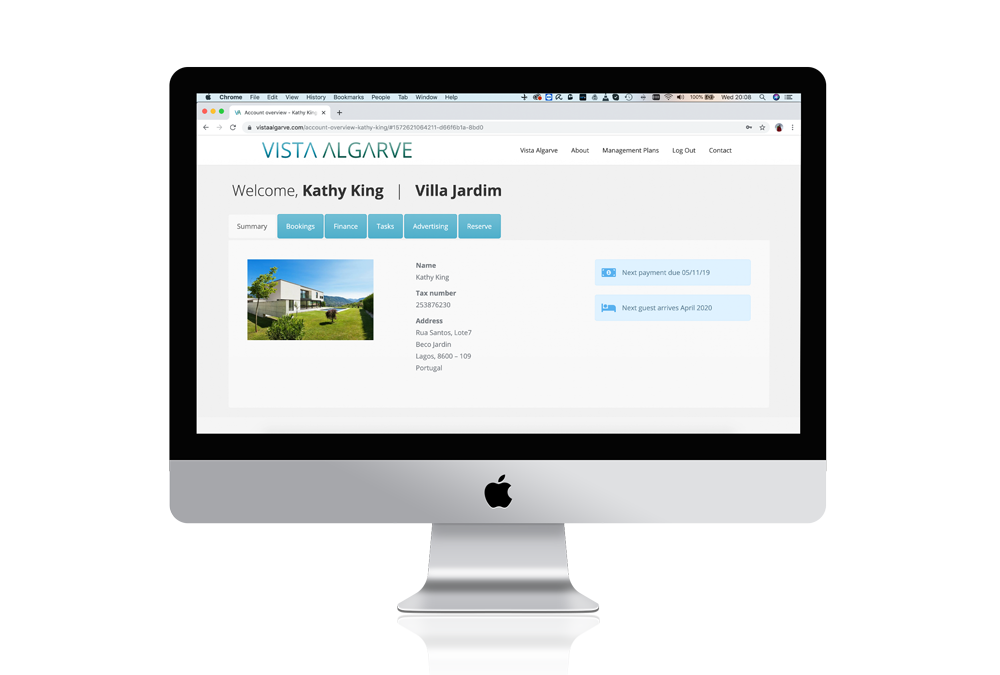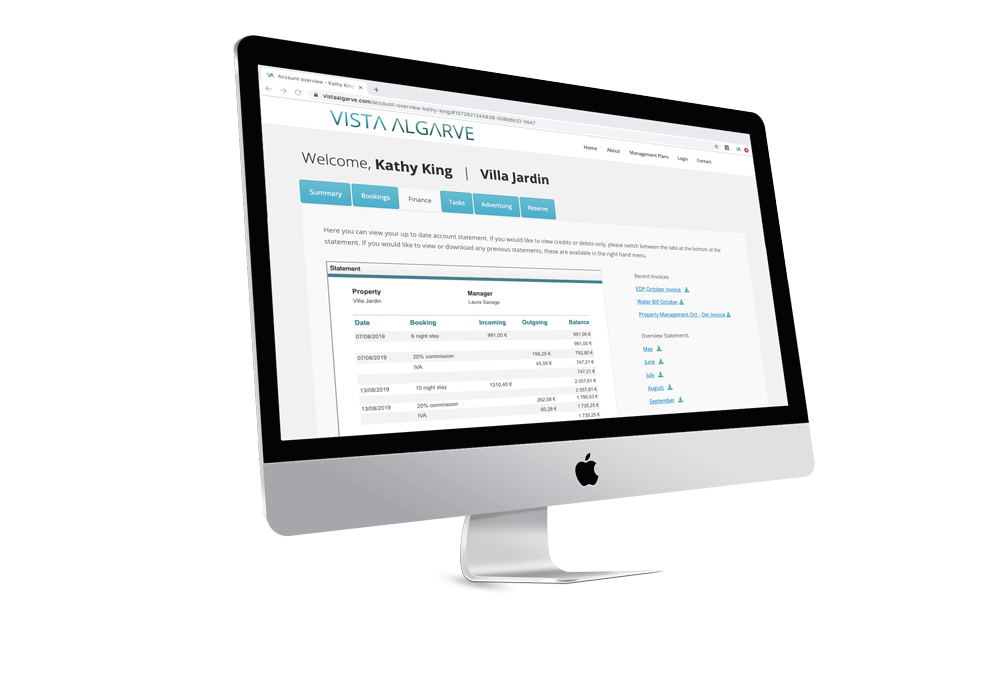 Want to log in and check on your bookings? Our bookings calendar is synced to AirBnB, HomeAway and our own BookAlgarve so you'll be updated as soon as a booking is confirmed.
See a week free and want to reserve it, you can send a reservation request and we'll block out these dates for you.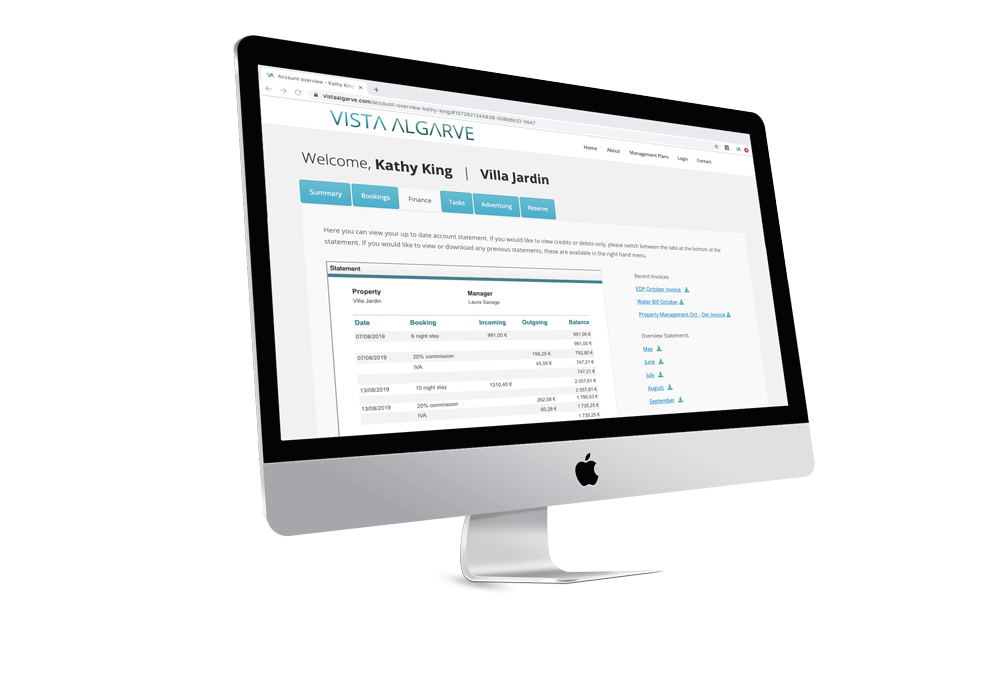 Tired of waiting or having to chase your property manager for your monthly statement? Here at Vista Algarve you can view your current months working financial statement. We ensure this is updated weekly and at the end of the month it is converted in to a pdf and can be found in your statement archive. If you would like to view credits or debits only, you can switch between these and drill down into the desired information.
You have access to all invoices and bills which can be viewed or downloaded within your dashboard.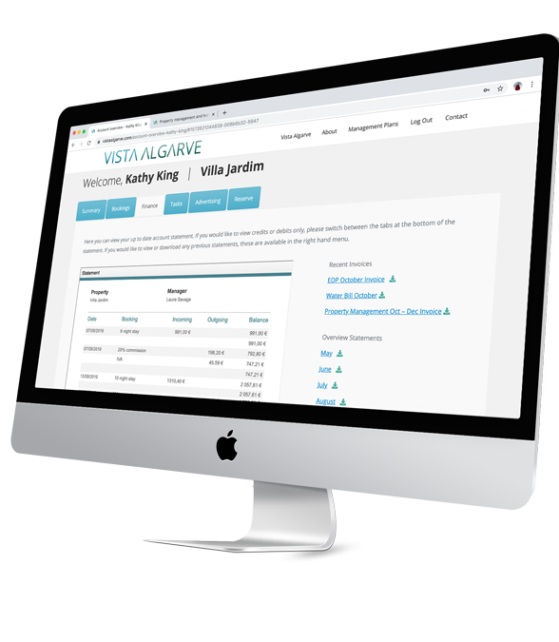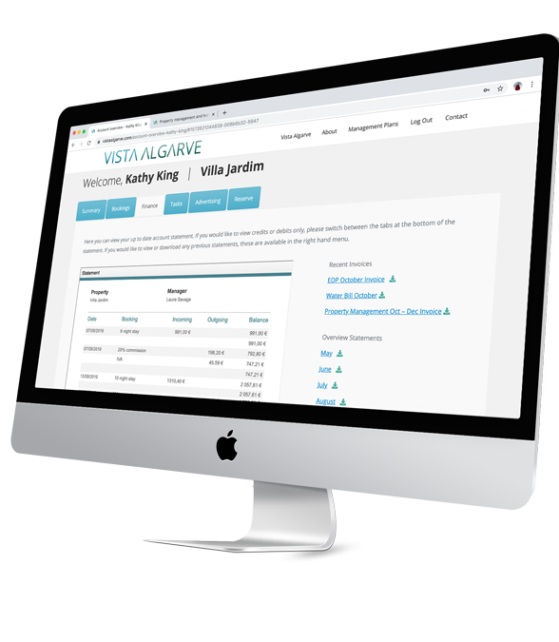 We understand that renting out your home can be very daunting at first, and that you'll have lots of questions and concerns. What if something gets damaged or broken?
We have a dedicated team of professionals on hand to look after your property. You can view our monthly task list for your property. If there's something you would like to add, you can let us know by submitting a request within your dashboard.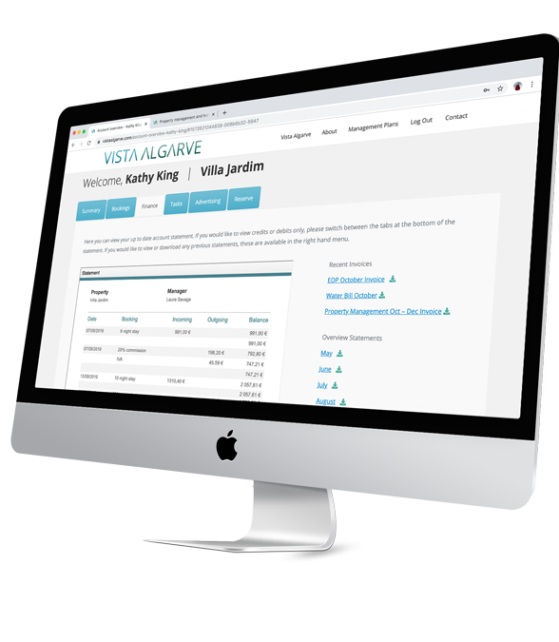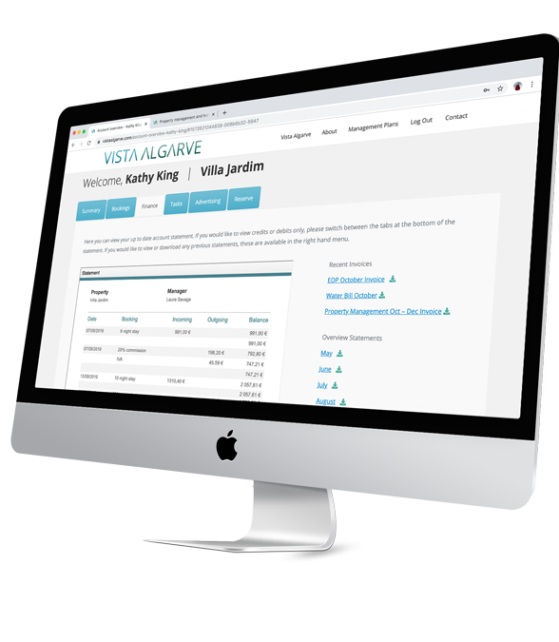 Vista Algarve Testimonials
"I'm happy to give Laura a glowing reference. She looks after my property in Porto de Mos. She is reliable and has been an absolute god send while we have been doing up our property. Has great contacts and very reasonable."
I found Vista Algarve whilst I was back in the UK and loved the idea of being able to check the status of my villa online. I can't recommend Vista Alrave enough. Laura has been so accommodating to our needs and if you're a non-portuguese speaker like me, Laura is great at helping with the…
It has been really refreshing to work with Vista Algarve over the last few months. They have been so accommodating of our needs and their response time is unsurpassed. Their ability to tailor their software to suit our demands is an outstanding example to the whole holiday letting industry. Keep up the good work!
Don't hesitate to get in touch – we'd love to hear from you!
Whether you're looking for some advice on renting your property, or would like to meet for an informal coffee to discuss your options, we'd be happy to help. If you're not in the Algarve often, we can also have a call via Skype, and you can chat to us on WhatsApp at any time too.